The time has finally arrived! Starting at 8am eastern today, you can get your hands on Stryd, the first wearable device to measure running power, through our crowd funding campaign on Kickstarter (stryd.com/kickstarter).
We chose to use Kickstarter as a way to get more people involved and gather more data on power-based run training.
The running community has embraced Stryd from the start, and weÍve been pretty surprised by variety of ways coaches and athletes are using the device. Now, we want to learn even faster. When you support us on Kickstarter, you join a community that is shaping the future of power-based run training with the information you provide us.
Our first group of users was excited most about two things:
Stryd gives runners a tool to accurately measure run intensity across varied terrain using the sports watches and mobile devices they already use to train.
Stryd unlocks ways to improve running efficiency.
The small wearable device uses first-of-its-kind sensing technology to calculate run power, measured in watts, an innovation that 3-time Ironman World Champion Craig Alexander told us is "the next step in the evolution of running." Long the standard for cycling training, power has been a sought-after run metric for years, but measuring it hasn't been possible until now.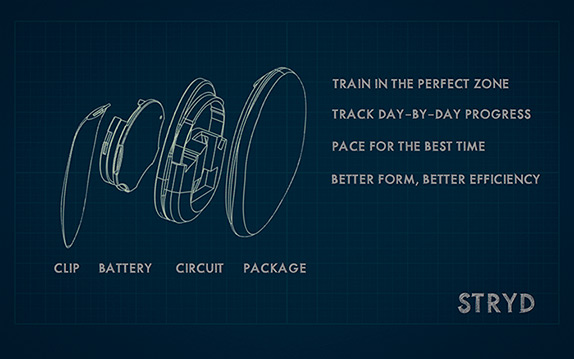 "Stryd quite simply will change running forever – for the better," said Danny Abshire, author of Natural Running and cofounder of Newton Running. "Running power is a simple metric for all kinds of runners to understand every key aspect of running _ performance, running form, and efficiency. Stryd has the potential to become the most indispensable running accessory to come along in decades, and can help millions of runners improve performance and meet personal goals."
To use Stryd, you simply clip the small device on and start the run. Stryd automatically links with ANT+ and Bluetooth SMART sports watches and mobile devices, and its battery lasts longer than a year. Starting from the first run, Stryd helps you learn your capabilities and establishes baseline data to help the runner understand performance and efficiency.
As our resident coach Gus Pernetz said, "Stryd answers run-by-run, day-by-day questions that runners care about. Did I pace myself right? Am I overtraining? How is my running form? Until now it has been a lot of guesswork, but Stryd gives runners a better way to measure intensity. And, with better measurement comes better performance."
Experiments in state-of-the-art laboratories have shown that Stryd accurately measures running power, running form, and metabolic expenditure, and it does this in real time. In addition to seeing that information on watches and mobile devices, runners get access to the data after workouts through a mobile app or Stryd and third-party web platforms such as Final Surge so they can analyze their performance on a much deeper level than ever before.
You can order your Stryd device today. To thank you for your early interest, we've included a $20 discount for the first 200 people. All you need to do is support us on Kickstarter at stryd.com/kickstarter.