The new Athlete Availability & Scheduling feature is now available in our Beta web platform. This new feature allows athletes to let their coaches know what days they are available to train, and how many hours each day they can devote to training. In addition to setting up a normal weekly availability schedule, athletes can also create future schedule adjustments, which will override the athlete's normal availability (in case the athlete is planning some future days off for vacation, travel or other reasons).
You can view our full tutorial video of this new feature below which details how athletes and coaches can set this availability schedule, and then how the availability can be overlaid on the calendar:

Setting Up Athlete Availability
The new Availability feature can be found by clicking on the athlete's profile image at the top of the calendar, and from there clicking on the new "Availability" tab: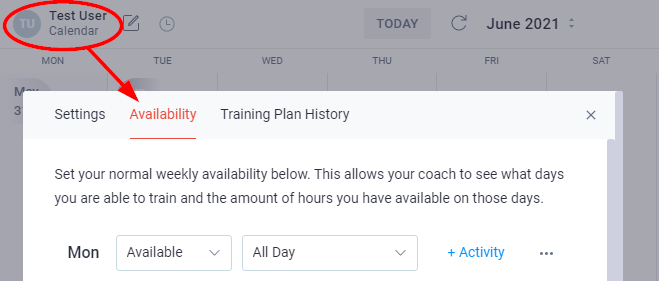 The athlete or the coach can then set up the athlete's normal weekly availability. This feature is very flexible and allows the athlete to input availability however their coach prefers. For each day of the week, you can select if the athlete is Unavailable, Available, Available for a specific number of hours, only available in the AM or PM, and/or select a specific activity to go along with the availability. For example, if the athlete doesn't have access to a pool on Wednesdays, they can set "Unavailable – Swimming" for Wednesday, letting their coach know not to schedule any swim workouts that day.

Or, if the athlete always prefers to do a run on Saturday and they know they have a max of 1 hour and 15 minutes available to work out that day, they can select "Available – 1:15 (Running)", letting the coach know not to plan anything longer than one hour and 15 minutes.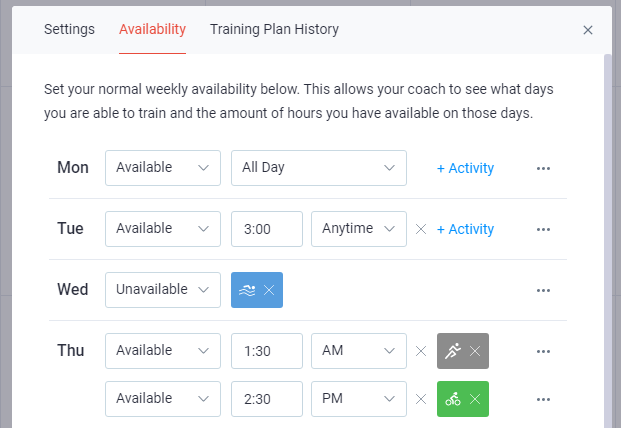 In addition to the athlete's normal schedule, you can also set Schedule Adjustments at the bottom of this screen.  A Schedule Adjustment is a specific date or date range that will override the athlete's normal availability.  For example, if the athlete is going to be traveling on a specific date in the future and won't have time to do any workouts, they may create a schedule adjustment of that specific date (or date range) and select that they are "Unavailable" for the entire day, overriding the normal weekly availability they have set: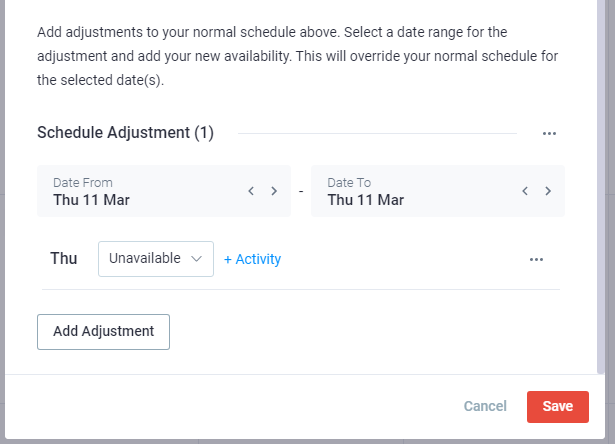 Viewing Athlete Availability on the Calendar
Once availability has been set, the coach or athlete can toggle this on and off the calendar by clicking the new clock icon to the right of the athlete's profile image at the top of the calendar: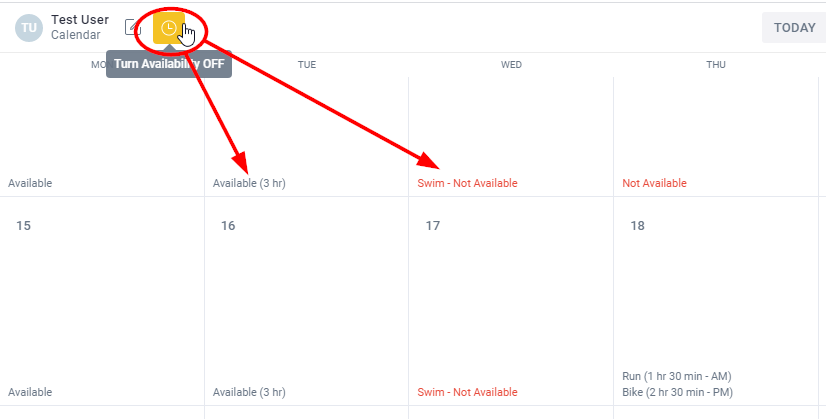 The availability schedule for this athlete will then display at the bottom of each day, allowing the coach to view the athlete's availability while planning future workouts for the athlete.