As a coach, we know that sometimes you want to keep track of exactly what you had planned for your athlete without that schedule being altered in any way. We are excited to introduce our new calendar locking feature. This feature allows the coach to lock an athlete calendar, which will prevent their athlete from moving or deleting the coachÍs planned workouts so that the original schedule always stays intact.
This feature can be set on a per-athlete basis. To access this function, click on the Coaching Settings icon next to the athlete's name on your Coaching Dashboard, or by clicking on the icon at the top of the athlete's calendar.

Once you click this icon, the Coaching Settings box will open up. At the bottom of this box you will now see a new Lock Workout Calendar option. Click the "Edit Settings" button at the top of this box to turn this option on and off for your athlete.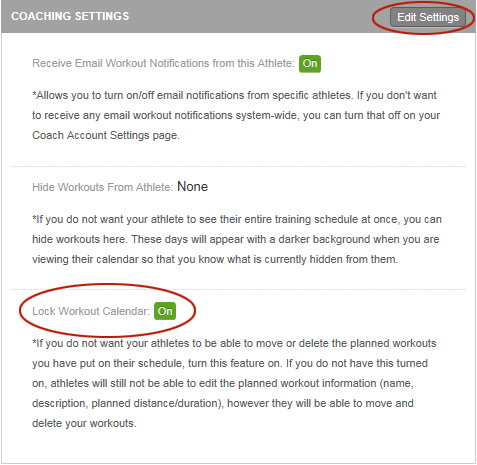 Once this is turned on, your athlete will not be able to drag the workout to a new day or delete the workout from their calendar. As always, the planned workout name, description, distance and duration cannot be altered as well. Locking the workout calendar will ensure that you as a coach will be able to see the schedule exactly how you planned it without any changes from your athletes.
Team Final Surge