One of the lesser known features in Final Surge has been the tracking of Daily Vitals. Daily Vitals is your daily wellness metrics, such as resting heart rate, hours slept, caloric intake and other metrics that many of todayÍs activity trackers and fitness devices collect. Up until now, the only way to record your Daily Vitals as an athlete was by clicking on the calendar day and selecting the "Daily Vitals" option from the menu off the plus sign. We are excited to announce that we have expanded our Daily Vitals section by not only adding some new variables to record, but we have also added a new navigation item at the top of the training log to easily view this history of health metrics and chart this data so that you and your coach can more easily find health patterns to improve your training.
Steps & Heart Rate Variability
To record your Daily Vitals as an athlete, you can still do so off the calendar by clicking on a day and selecting the Daily Vitals option. You will notice that two new fields have been added: Steps and HR Variability. With so many of todayÍs athletes constantly monitoring their health by wearing activity trackers, we wanted to make this information quickly accessible to both athletes and their coaches.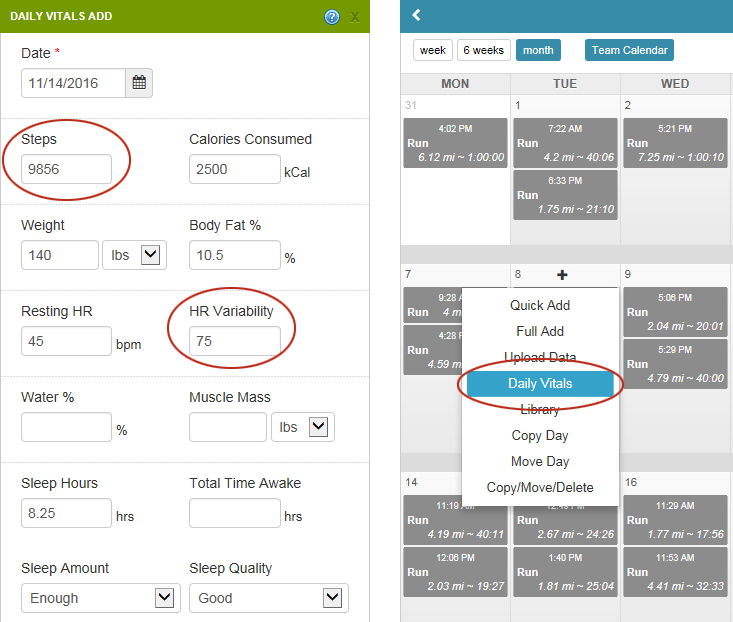 Once an athlete has added this information to their calendar, a heart icon will appear on the calendar day which you or your coach can hover over to quickly see the recorded metrics.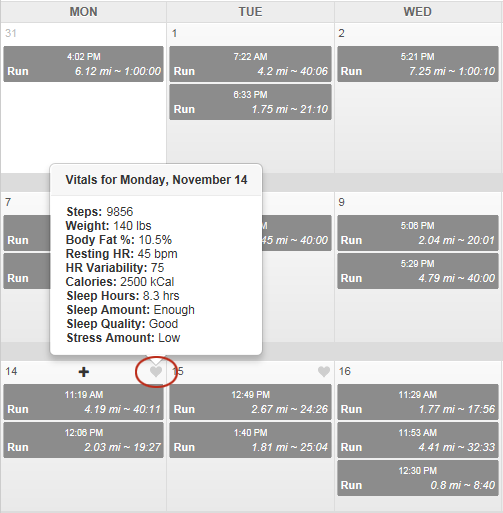 The New Daily Vitals Section
In addition to recording these metrics off the calendar, we have now added a new Daily Vitals section in the main navigation at the top of the log.

The new Daily Vitals page has been a much requested feature, providing athletes an easier way to view, record and edit these metrics. Our new feature allows you to select several pre-defined date ranges of time to view this history, or, you can create a custom date range to view. In addition to viewing your vitals in a list format, we now chart many of these metrics at the bottom of the page so you and your coach can start viewing health patterns and making the most of your daily activity tracking and wellness information.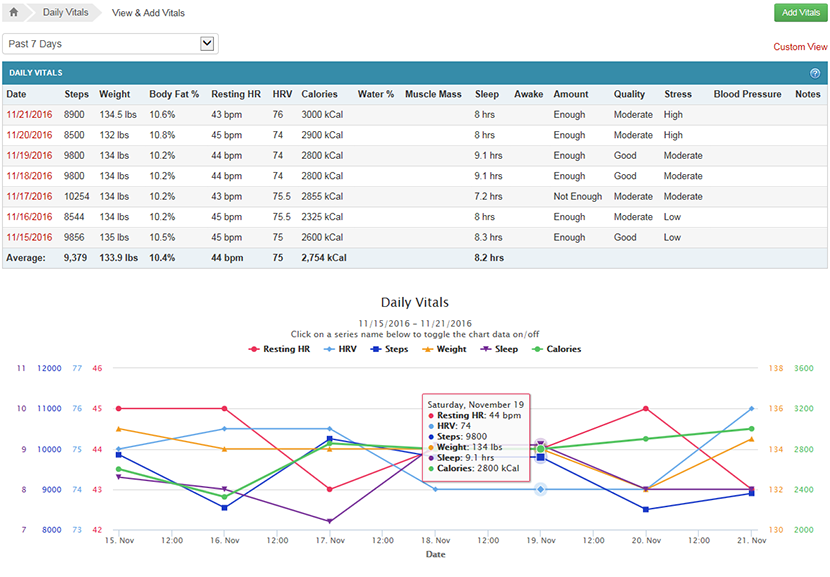 Keep an eye out for some upcoming data sync features that will allow you to automatically sync your daily health metrics from activity trackers to Final Surge!
Team Final Surge