Final Surge is happy to announce our integration with the EliteHRV App, allowing users to sync their HRV and Resting Heart Rate data directly to Final Surge. EliteHRV helps you track your most important biomarker, Heart Rate Variability. HRV is the best non-invasive measure of the Autonomic Nervous System, the main controller of health and performance functions.
The data sync originates from inside the EliteHRV iOS or Android app. Final Surge has been added to the list of premium integrations enabling you to send your HRV score and resting heart rate data to the Daily Vitals section in your Final Surge account. To link your Final Surge account to your EliteHRV app, go to the "More" menu in the app and select "Link Other Apps or Services" under the Preferences section. You will see Final Surge listed in the options of Premium Integrations.
Below are some screenshots of the integration: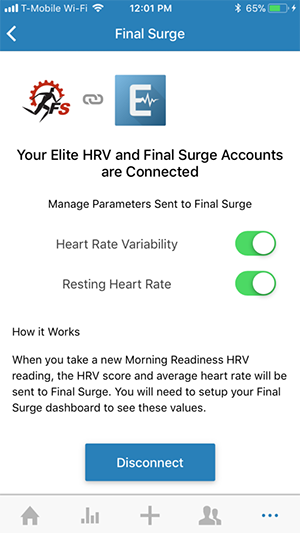 Each morning when you take your HRV reading through the EliteHRV app, the data will sync to Final Surge and your Daily Vitals graph will begin showing your HRV and Resting Heart Rate data in both the listing and chart formats.
Team Final Surge