For those athletes and coaches who train using the Hansons method, or have purchased a Hansons training plan, we're happy to announce that the team at Hansons Coaching Services have updated their calculator and released a new version. This new version allows you to use your most recent race time (any distance) or a goal race time (if you are training for a specific marathon time) and then it will generate your paces for each type of workout the Hansons method uses. In addition, the calculator will also display equivalent race times of other distances to help you get a feel for what kind of shape you are in at other distances you may not have recently raced.
Finally, another great addition to the calculator is a temperature and humidity adjustment for training paces. This feature allows you to type in the current temperature, humidity and wind speed and will calculate adjusted paces that you should be running when in those conditions.
To access the new Hansons Calculator, click the Workout Intensity Calculator icon at the top of the training log.

When the modal window opens up, make sure you have the "Hansons" calculator option selected at the top of the page.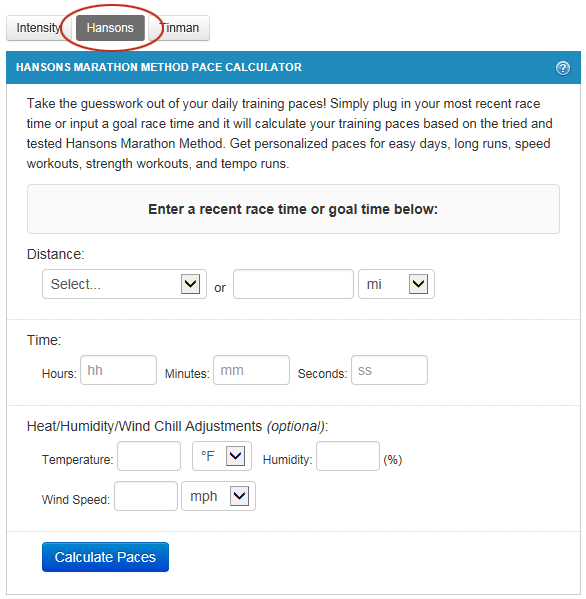 Below is a video that Luke Humphrey of Hansons Coaching Services has put together explaining the new calculator and how to use it for your run training.
 
Team Final Surge