We are happy to announce that Stryd has released a direct structured workout sync with Final Surge. This allows Stryd athletes and coaches to create power-based structured running workouts inside of the Final Surge platform, and have the workouts sync down to Stryd so that users can complete the workout using the Stryd Garmin Connect IQ app or the Stryd Apple Watch app.
In addition, any training plans that are purchased on Final Surge which contain power-based structured workouts will also sync down to Stryd.
This new integration can be enabled inside of the Stryd iOS and Android app.
Setup from the Stryd iOS/Android App
1. Open up the Stryd app on your mobile device. On the bottom bar of the navigation, tap the "Settings" icon:

2. On the Settings screen, scroll to the bottom and tap on "Connected Accounts":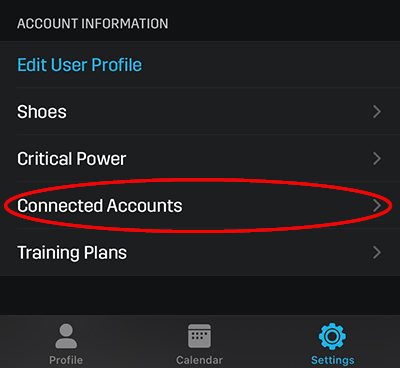 3. If you have never connected Final Surge with Stryd, tap on the plus (+) icon next to Final Surge to authorize the initial connection in the Add Account section. If you have already connected Final Surge with Stryd in the past, tap on "Final Surge" in the Connected Accounts section at the top of the screen: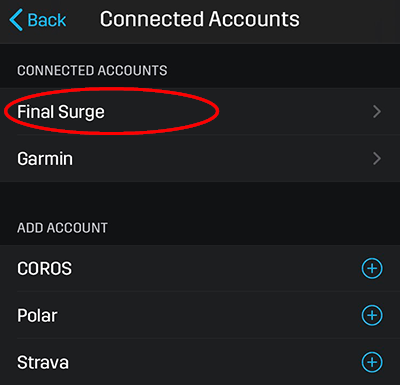 4. On the Final Surge settings screen, make sure you have the "Import Workouts From" permission turned on. This is what allows Stryd to accept structured workouts from Final Surge. Please note, Stryd grabs workouts from Final Surge automatically twice a day. If you make an adjustment to a workout or recently modified a workout, use the "Manually Sync Workouts" option on this page to sync workouts immediately and send them down to Stryd's calendar: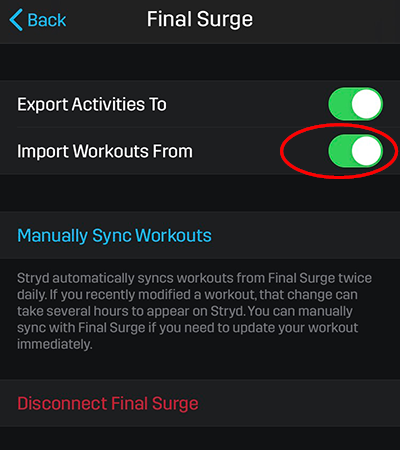 5. Once you have set up the sync, you can then navigate back to the Stryd calendar by tapping on the calendar icon at the bottom of their app. If you have structured workouts planned for the coming days, you will see these workouts from Final Surge show up on your Stryd calendar: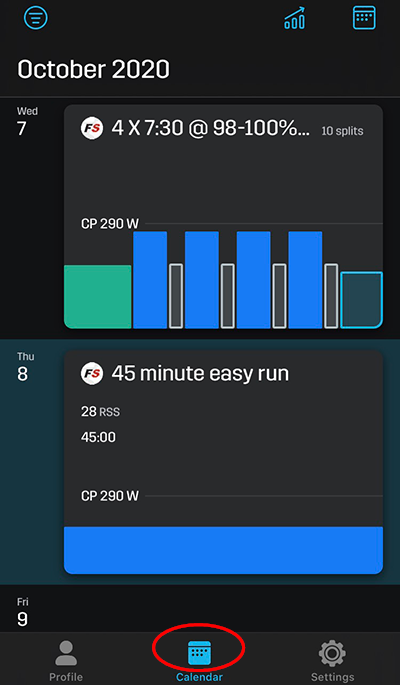 6. Tap on the workout from the calendar view the details of the structured workout: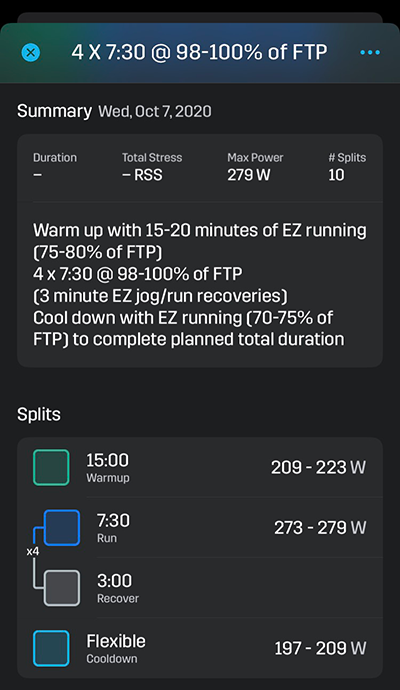 That's it! You have successfully set up the structured workout sync integration with Stryd. Future planned structured workouts that are put on your Final Surge calendar (by yourself, your coach or via a training plan) will now automatically sync to your Stryd account.
Loading Structured Workouts from Stryd on Garmin and Apple Watches
For help loading these structured workouts onto your Garmin or Apple device, please view this help article on the Stryd website: https://support.stryd.com/hc/en-us/articles/360057379553-Importing-Workouts-to-Your-Apple-Watch-Garmin-Device