Welcome to episode 9 of the Final Surge podcast. This week it is our pleasure to talk to professional runner and coach Neely Spence Gracey. Neely recently made her marathon debut and finished as the top American women in Boston. We talk about her recent coaching change, her coaching career and how she is using Final Surge to help grow her business. We also find out what she has planned for 2020.
1:10 Our first question that we always start with for each of our guests is always how did you get your start in running? – Interesting fact, Neely was born while her father Steve Spence was running the Boston Marathon.
2:25 You were a successful high school runner and probably could have run at just about any college, why did you decide to go to a D2 school over a D1 school? – Neely stayed close to home at Shippensburg University.
4:05 If you were sitting down with a classroom full of high school runners who are deciding where to run in college, what advice would you have for them? – Neely thinks a visit to the school is important.
4:55 We know being a professional runner is not always the most lucrative career, so when you finished your college running career what was the decision process like when you decided to become a professional runner? – Neely had a unique experience by growing up around professional runners.
7:10 About a year ago you made the switch to start working with Coach Steve Magness. How is that transition going? – Neely has a unique situation where her husband works with Magness.
8:15 Most of our listeners probably know Steve from his book Science of Running. How has your training changed under Steve? – Variety in workouts is one of the biggest changes that Neely has experienced under Coach Magness.
10:50 What is your weekly mileage and how long are your long runs now? – Neely has topped out at just over 100 miles. This has changed in the last year as she has moved to marathon training.
11:35 This year you decided to make your marathon debut at the Boston Marathon where you were the top American women. You made this decision over running at the Olympic trials. What went into that decision? – This was not Neely's original plan. Her original plan was to run the Trials, but things do not always go as planned.
A couple of questions from Twitter:
13:25 Do you have any specific events in mind for 2020 Olympic cycle? – Neely hopes to be competing for a spot on the 2020 Olympic Team.
15:25 Do you run with Strider and if so, how far? – Strider is her dog who is a little over a year old.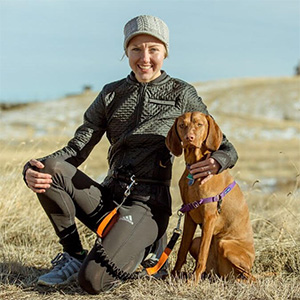 Neely and Strider – Photo by David Bracetty
16:50 You recently started coaching. How is that going? – Neely currently has 35 clients.
18:00 Are you coaching people face to face or are you doing more internet coaching?
18:10 How are you using Final Surge in your training and your coaching? – Neely has been able to almost double her business because of the use of Final Surge.
19:30 Do you accept anyone to coach or are you looking for a certain type of person? How would someone know if they are a good fit to work with you? – The one common factor for Neely's clients is that they are highly motivated.
20:40 If someone wanted to reach out to you and find out about your coaching services how could they best reach you? – GetRunning@outlook.com.
21:20 So what is next, any fall or spring marathons coming up? Not mentioned in this interview, but since the interview was recorded, Neely has announced she will be part of a star-studded NYC marathon program in November.
Rapid Fire… 5 questions in under 1 minute
Favorite running book or blog? – Lauren Fleshman
Current trainers you are wearing? – Adidas Energy Boost
Favorite race or race distance? – Bolder Boulder
Favorite recovery meal or recovery drink? – Egg sandwich on a bagel
Your favorite piece of running equipment that is not your shoes? – Sunglasses
You can find Neely at:
Listen to the Podcast
Listen to the podcast on iTunes or listen to it on Stitcher if you have an Android device.
Stream it right here:
Team Final Surge